Uncensored Lilac is a collection of posters by Bassam Issa and Jennifer Mehigan for their upcoming film project that has grown out of their collaborative practice. The project explores the mythology of Japanese knotweed, its lineage as the largest female organism on earth, and its alignment with gendered tropes of dominatrixes, goddesses, giantesses, and other dehumanised feminine bodies. Uncensored Lilac explores the violent potential of these primordial figures returning to Earth to 'correct' millennia of injustice and reanimate the landscape in co-operation with technology. Set on an unnamed island vaguely resembling an Eastern Atlantic ecosystem, viewers will encounter lineages of familiar and obscure goddesses woven together, with CGI morphing and glitching them into fantastic assemblages of themselves, the animals they symbolise, and the agricultural rhythms to which they are often tied. The film moves between abstraction and unreality, examining the dirt, the bodies buried within it, and what they might bring to light.
Click a detail to view full poster: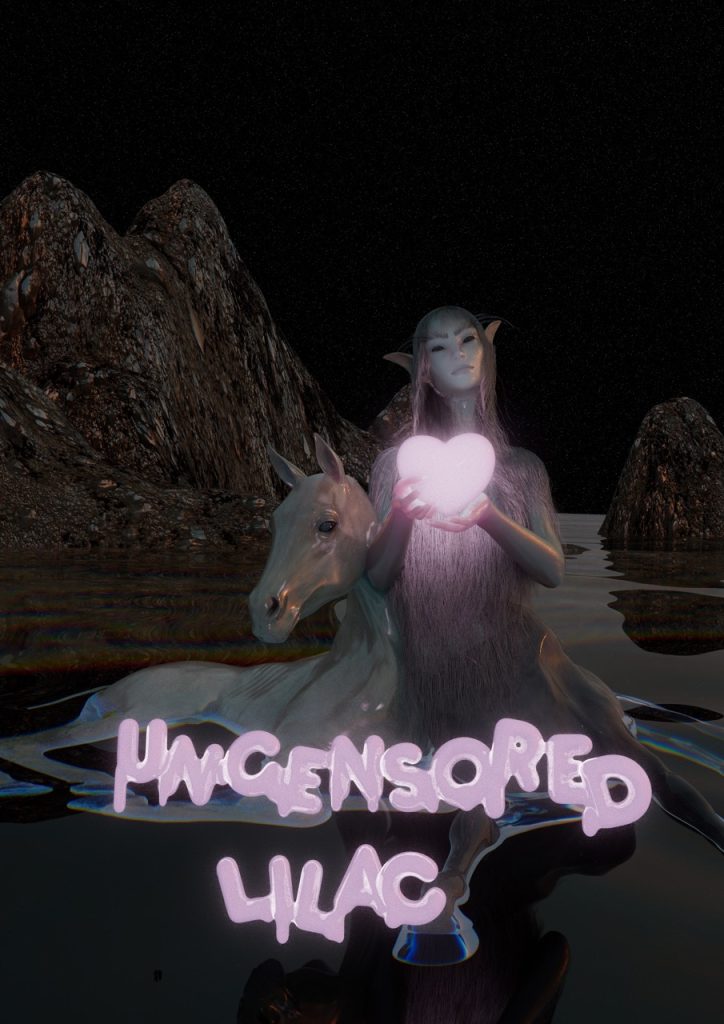 The sky is black. Facing you, in waist-high water in a dark bronze quarry, a pale-skinned mammal appears, partially submerged, with a questionable form. It seems to be a centaur, but the horses head is still present with the upper body of a long-haired, elf-like being, and it is hard to see where the creature begins or ends. The being's hair is long and mauve and glows in the light of a luminescent pink heart-shaped object she holds in her hands. Her eyes are black, the horse's eyes are glazed white. Their skin shimmers in a holographic kind of radiance. The words 'uncensored lilac' float in 3D just below the surface of the water, dripping pink.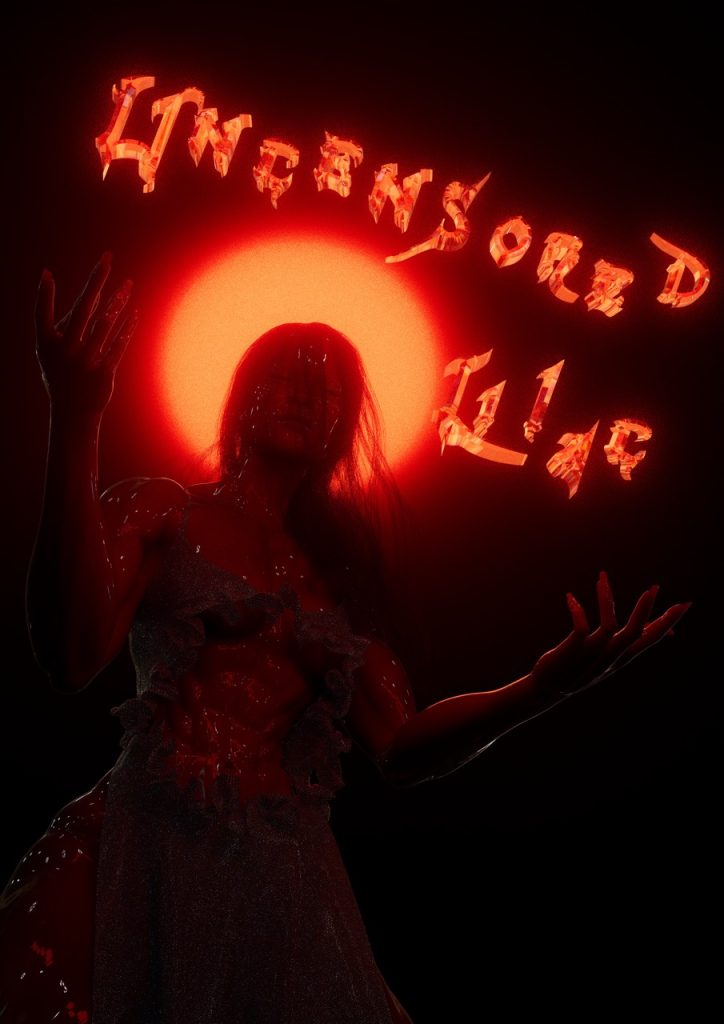 The sun is setting, or at least the light is fading to red, and sweat is pooling on the character's digitally rendered skin. She is muscular and glossy, eyes closed, arms outstretched like a statue of a saint. A nimbus glows and forms a disc shape around her head, and strands of her hair are caught in her face. The words "uncensored lilac" hangs in the dark air.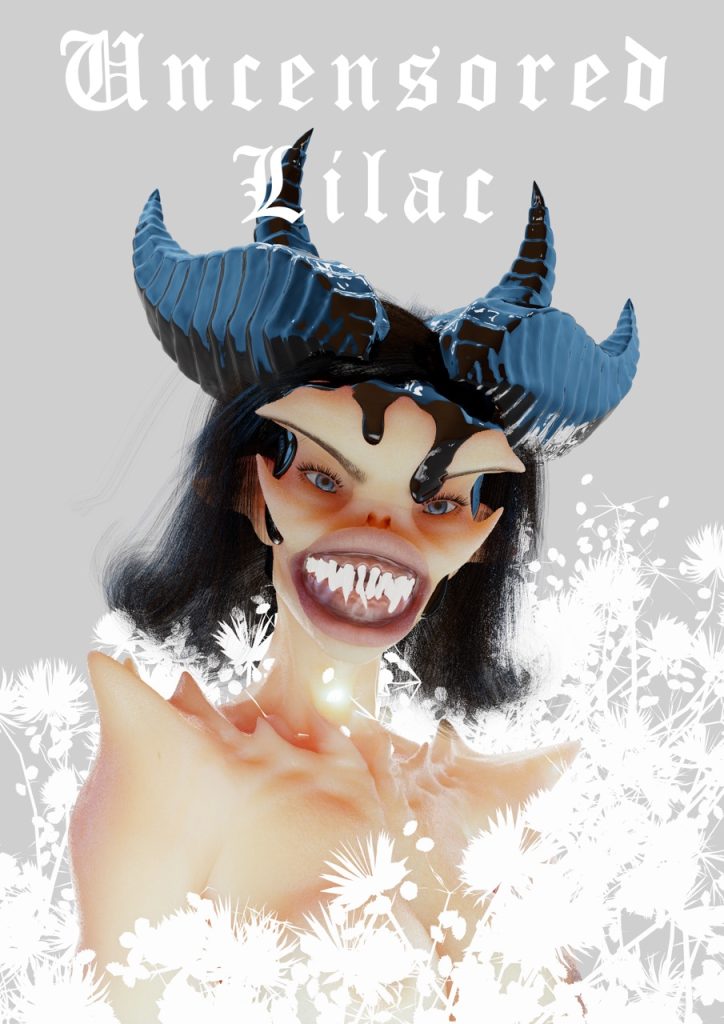 In bright studio lighting with a plain background, a feminine being with white skin poses for a photograph in a shroud of white flower cut-outs, leaving her bright décolletage bare and bony. Her hair is in a neat black bob, her eyes are blue, and her lips are plump. Her bone structure is defined. with a prominent forehead, cheekbones, and a small nose. She has four thick glossy black horns growing out of her skull that are leaking an oil-like substance into her eyes, carving out hollows in her skull. Her teeth are bared and they appear to be from other animals, maybe a combination of something like snakes and wolves. The words "uncensored lilac" hang above her horns in an Old English typeface.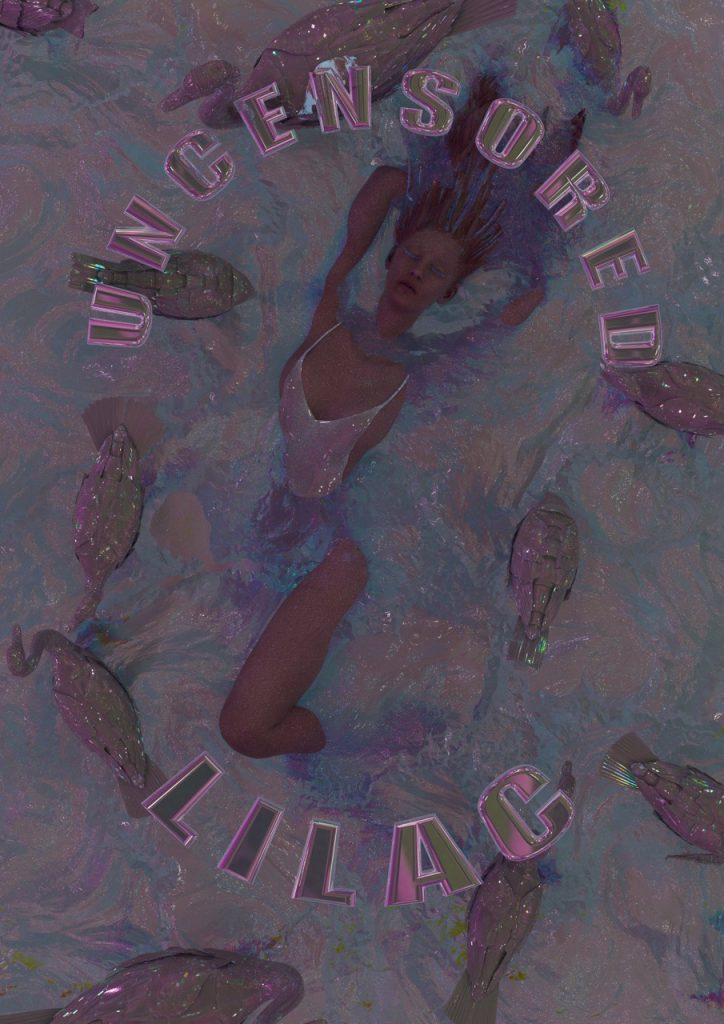 Drone's eye view: a woman lies on her back in a duochrome sea of baby pink and blue. She is wearing a holographic camisole that barely covers her body, her eyes are closed as she floats in the water with 11 glossy swans surrounding her. She is unbothered. The words "uncensored lilac" are written on curved paths, rendered in pink glass.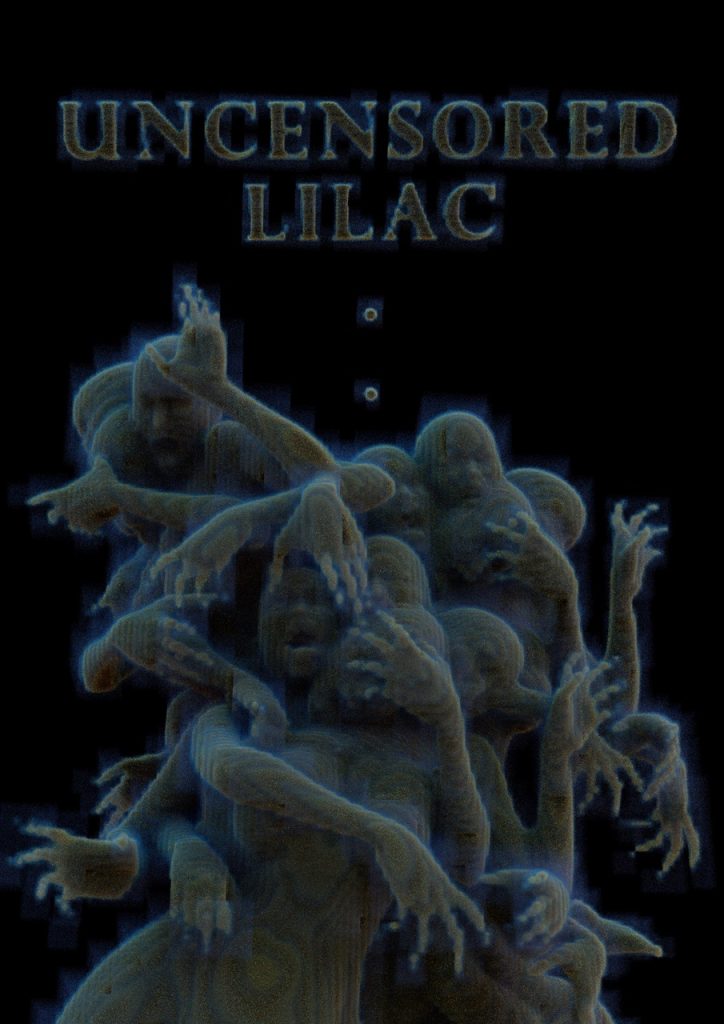 Against a black background, in a dark environment, a collection of human-like bodies and their hands contort to form a pile. Their mouths are open and faces are held in mid-scream. A pixelated egregore. Their skin is mostly green with red shadows and blue auras. They don't appear to be fully rendered yet, stuck in limbo between the screen and the machine. Two small bubbles, and the words "uncensored lilac" appear above them in 3D.