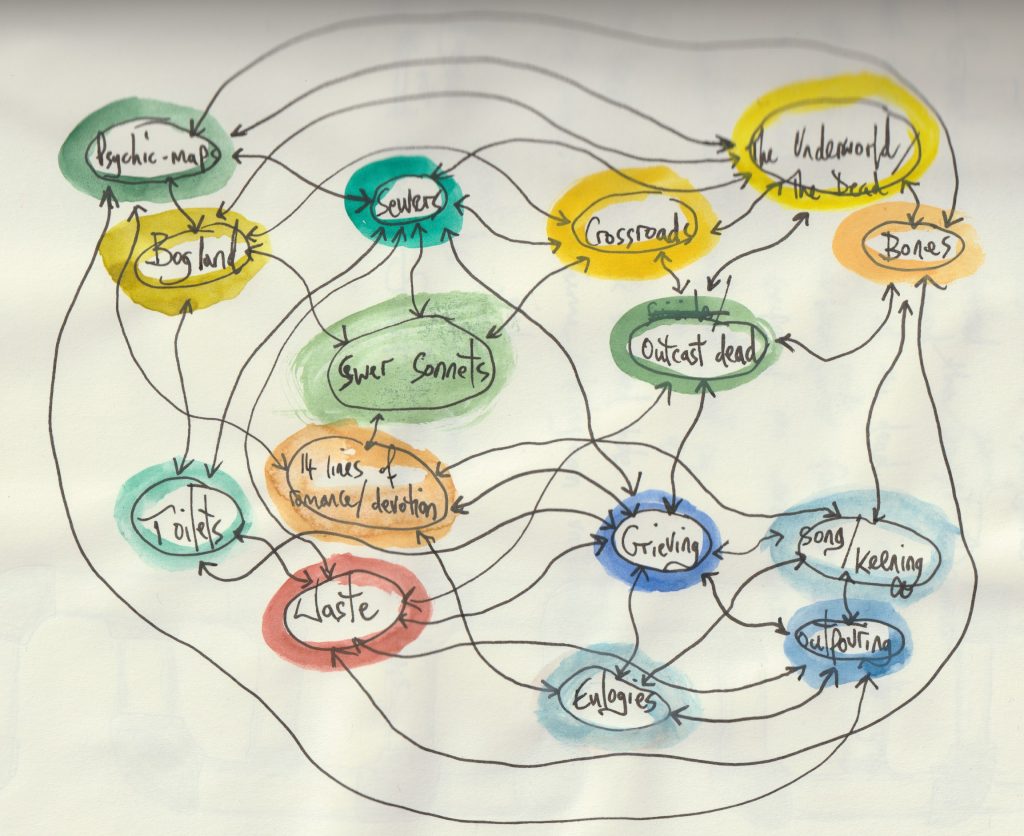 The first thing I do whenever I start a new project is draw a mind map or diagram as I find it to be a super useful way of getting a sense of where I want the work to go. And so, this is a mind map of interests I'm aiming myself towards for the Vital Capacities residency.
Looking back over it, there's one glaring absence in this map: cannibalism. I just watched the TV show Hannibal, and am low-key obsessed (and probably permanently tainted) by it's very gay tale of aching desire and the high aesthetics of anthropophagi (or human-eaters). To my mind, cannibalism connects nicely into the above mess of interests. There is a beautiful Buddhist food offering my girlfriend taught me, composed by Roshi Joan Halifax: "Earth, water, fire, air, and space combine to make this food. Numberless beings gave their lives and labors that we may eat. May we be nourished that we may nourish life." Food always carries the dead with it. Of course, Hannibal accelerates his victims proximity to their death, and a number of times refers to them as no better than factory farmed livestock, so I'm not sure 'ethics' are high on his agenda, so much as aesthetics.
I love finding a title for a new body of work, it feels super freeing to have a banner, 'SEWER SONNETS', under which all sorts of ephemera can be connected and begin communicating with each other. I am really interested in how sonnets are this weirdly specific poetic form (traditionally it is a poem composed of 14 lines in iambic pentameter) that has emerged as THE genre of love poetry, and potentially even more specifically as the ultimate genre for dead lovers' poetry.