Michael Landy

A British conceptual and installation artist born in Ilford.

Landy is best known for Break Down, a performance piece where he categorically destroyed all of his possessions in a disused C&A on Oxford St. It has been widely read as a critique of consumerism, following on from early work of his that overtly criticises a growing consumerist ethic. I think the work contains an inner dimension that allows for a deep denial of materiality (not just material), making it spiritual and ascetic. The work was visceral and emotional for Landy.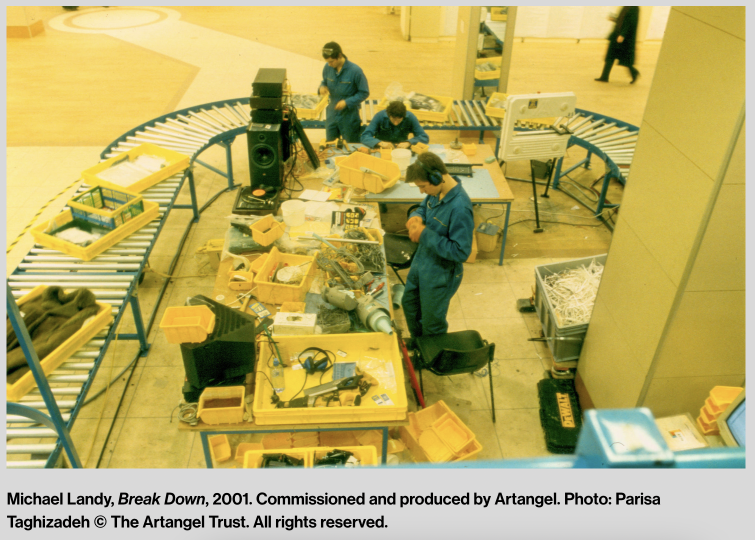 After 'Break Down' he took a hiatus from making art before returning with Semi-detached. The latter is a lesser known work of his but I find it conceptually important that after destroying all of his possessions that he felt the need to recreate his home. This house is such a ubiquitous image in Ilford and witnessing it in the gallery space gives me mixed feelings. In some ways, the work seems to be a direct discussion about the area, home and Landy's personal history. Mobilising the aesthetic feels representative. The work engages in a kind of elevation of normality. An edification of all of the processes of house-building: window fitting, door framing, coving, roofing etc. While obviously not unique to Ilford, this building is a complete replica that brings Ilford into the gallery space and it makes the address in Ilford another site of the work.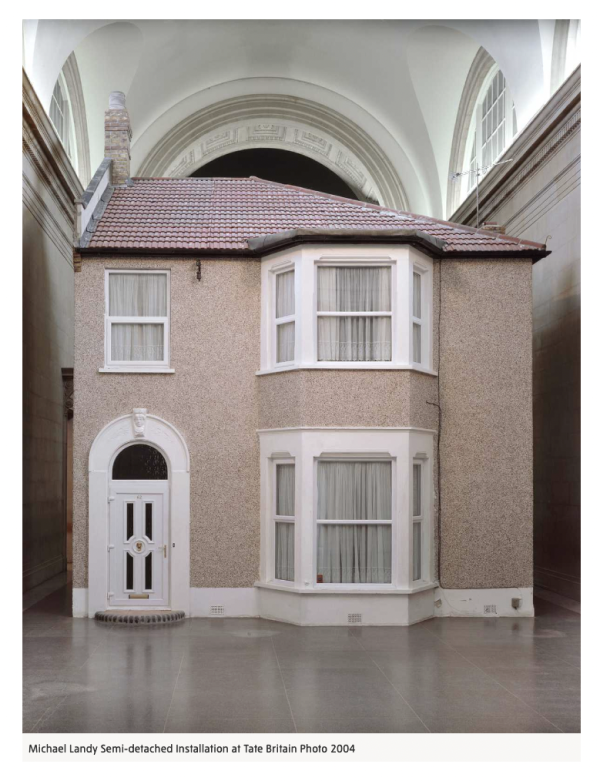 In other ways, the work misses an opportunity to have a discussion about how dynamic Ilford is as an area. The focus is on a frozen moment in the artists history and does not engage more widely in the creation of place. The neighbours, the local supermarket, the high street, the bus stop, the local park. These aspects of home-place-making are all conspicuously absent from the work.

Anyway, the work is actually all about Landy's dad who was confined to the house after a mining accident in 1976. It's about his father's incapacitation and a reflection of working class conditions in 1970s Britain. So of course, it isn't about Ilford at all neither elevating its normality nor missing its dynamism but keeping a focus on the father-figure. In some ways, Landy's work is about ancestry and those who have come before. The excerpt from a Guardian interview with the artist below strings together the relationship between Break Down and Semi-detatchced.
"One object that Landy didn't destroy until right at the end, which went round and round the conveyor like an unclaimed suitcase, was a big old sheepskin jacket – his dad's. "My mother had bought it on credit just before he had his industrial accident. After that, it became too heavy for him to wear any more. She still had to pay it off. In a sense, this sheepskin coat became him, travelling around on this yellow tray…Landy later made a significant work about his dad, Semi-detached, in which a precise replica of his parents' Ilford semi was erected in Tate Britain's Duveen Galleries in 2004. It was the sort of emotionally loaded artwork he couldn't have imagined making before Break Down. "I was interested in my dad's value as a human being. What's rubbish? What's a weed? Why is my dad a total wreck case? That's what preoccupies me.""
(( THIS WAS A GREAT REVIEW OF ANOTHER SHOW OF HIS ))

Most recently Landy has been making work about Essex, the county of his and my own birth. Reviled as the capital of countries nouveau-riche, Landy documents the nations view of Essex in his 2021 exhibition Welcome to Essex at the Firstsite Gallery in Colchester. His archive Essexism turns the mirror on a liberal-metropolitan elite who have written about the rise of Essex as a kind of phenomenon. It shows them as frightened of the emergence of a new kind of middle class who do not seek the sanctified sophistication of upper-crust England but use their wealth to adorn themselves while otherwise staying authentic in speech, action and style. While the classism is a clear issue tackled in the work so is the accompanying misogyny.
The construction of the 'Essex girl' has been used as a way to demonise young women and label them 'stupid' for seeking different kinds of mobility. In the accompanying documentary, Landy meets superstar businesswoman, Amy Childs, who it turns out is his first cousin once removed. He makes a point about their similarity and even uses products of hers in his exhibition as part of the archive.

The work feels authentic, political and as described by Landy himself iconoclastic. I appreciate that he includes his mother in the documentary work, that he explores spaces he knew as a child and that he admits how ignorant he was about Essex throughout most of his life. I feel inspired by how genuine he seems and through reading about his life and work I take away the following lesson:
bringing the family into the frame, forgoing the material, seeking something of home,