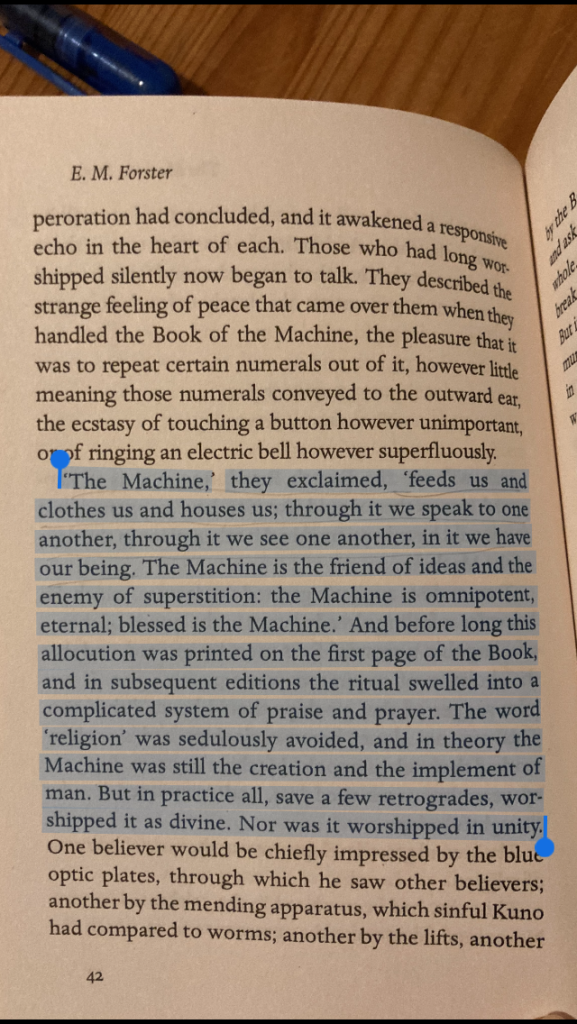 Text reads:
The Machine, they exclaimed, 'feeds us and clothes us and houses us; through it we speak to one another, through it we see one another, in it we have our being. The Machine is the friend of ideas and the enemy of superstition: the Machine is omnipotent, eternal; blessed is the Machine.' And before long this allocution was printed on the first page of the Book,
and in subsequent editions the ritual swelled into a complicated system of praise and prayer. The word 'religion' was sedulously avoided, and in theory the Machine was still the creation and the implement of man. But in practice all, save a few retrogrades, worshipped it as divine. Nor was it worshipped in unity.

'The Machine Stops' by E.M. Forster (1909)
I've read this short story a few times and it touches upon a lot of 'optimistic nihilism' within the technological dystopia that's explored. Forster's story influenced a lot of how I think and frame 'technological innovation', and it's interesting how the idea of 'worship' always pops up. We worship objects, people, places, entities, spirits, abstractions, and the dead. These rituals are supposed to show what we care about and value, forming solidarity, however before technology these practices were seen through the 'human gaze'. Nowadays, a lot of our influences and judgements are through a 'computer gaze'. Breaking it down like this, I find it surreal how we have adopted a 'computer gaze' of death when it's the most humanistic component of all.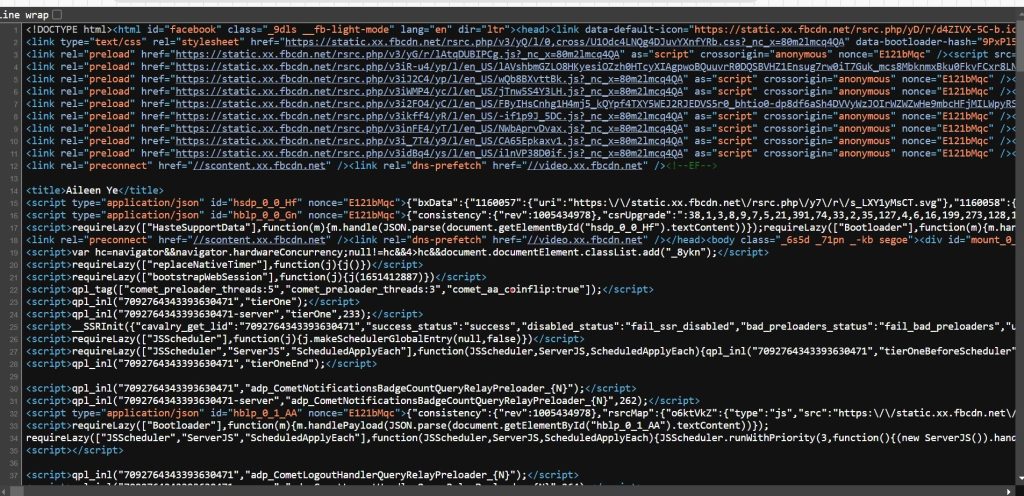 As you can see from the image, this is the source code for my Facebook profile. I come from a mixed Irish-Chinese cultural background where both cultures require the death of someone to have large ceremonial practices and funerals, as a way to provide offerings, safety, luck, and 'bon voyages' to the spirit's next journey. But looking at how the computer gazes at my soul through this image is pretty bleak.