It's very interesting, going back and visiting old work. I tend to be consumed by new work, absorbed in my making and thinking. When my practice focused on drawing, drawing was all I wanted to do. For a while, a walk without a walking drawing was a wasted walk. My excitement and enthusiasm for the drawings gripped my mind totally.

So re-visiting the process of making walking drawings for this residency I expected to have that same consuming interest, and at first I definitely was excited and enjoyed seeing the work that was produced. Then as the days went on the work became frustrating. I felt stuck and I felt like I had gone backwards in some way. My focus has changed, my work is currently engaged with word crafting, I felt in some strange way that I was letting my practice down by attending to drawing, despite how much I love drawing as an art form. It was a very uncomfortable moment in this residency.
After wrestling with this problem and talking to artist friends I realised that I have definitely moved on from making drawings in the old style, with the drawing devices. But I haven't finished making drawings per se, I realised that I have just changed the medium with which I make drawings.
I've written quite a lot during this residency and I was idly thinking about drawing, writing and the possibility of drawing with words. I wondered what the writing I have done for this residency would look like in a word cloud? I was thinking that perhaps I have used particular words very often and maybe looking at those words would inspire me to create something interesting for my final exhibition piece.
So I pasted my posts into some word cloud software. There were some interesting results, so I decided to copy and paste the words into Google docs and play around with them, trying to find some way of drawing with words. Surprisingly, when I pasted the word cloud words into the document I discovered that many of the words had somehow been stuck together, forming new and rather wonderful words. For instance, fungi and old became fungiold, way and road became wayroad, breath and raven, breathraven.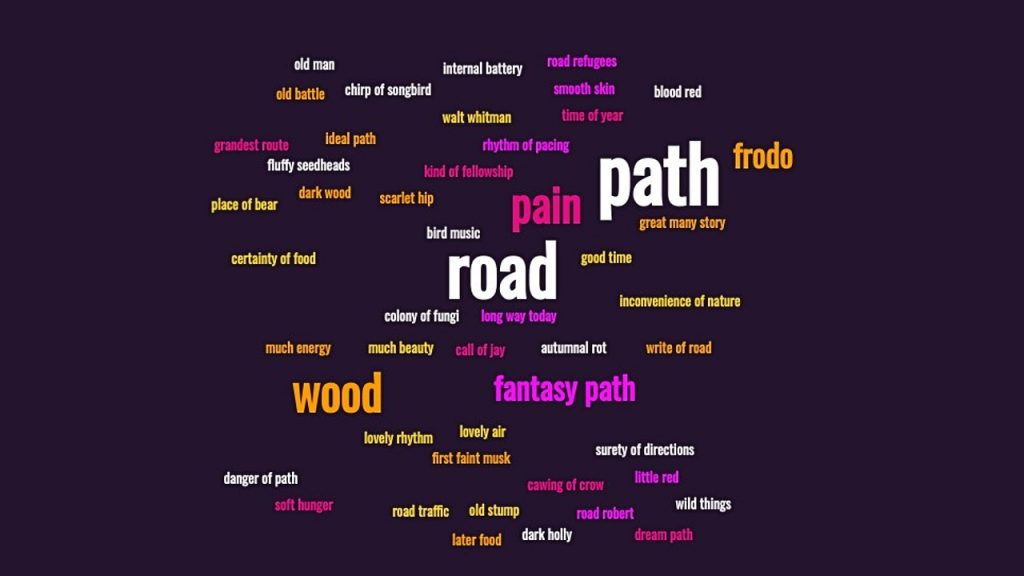 Reader, my brain exploded. Okay, not literally, but I was so excited to see these wonderful, randomly created new words. The process felt simillar to how I used to make drawings, in that I would set up an experiment which had an element of the unexpected and/or random process and then metaphorically step back and allow the outcome to generate itself. In drawing, that is effected when I design a device for making a drawing based on some input not deliberately controlled by my hand, as when the pen in the device moves because I am walking.
Using the word cloud felt similar. I wrote the initial words and input them into the word cloud, therefore setting up the conditions for something to happen, yet it was the way the word cloud software handled the text and the Google software handled the copy and paste process that determined the outcome of the combined words.
These combined words placed together in an arbitrary collection are word drawings, maybe even a poem. But I am the mother of a poet and I have enormous respect and awe for a poet's effort and creativity in combining words and meaning and I feel that to call what I have created poetry is incorrect, even audacious. They are word drawings; odd, sometimes beautiful, nonsense in which we may nonetheless see meaning.
Just as I make the decision what type of pen or what colour ink to use in a walking drawing, therefore having some aesthetic control over the final drawings, so I took some control over the placement of words in my word drawings. Mostly, I left them as they were arranged by the word cloud software, but in some cases I moved them around and I sometimes inserted words, such as go, and or where to break up the list and improve the rhythm or flow of the piece.
Finally, I used some Open Source software called Twine to gather all the words into an interactive word drawing. Readers determine what text will be displayed on screen by clicking on the highlighted words, therefore having a different experience with each reading, depending on which words are selected.
I'm very happy with this result! I never could have imagined getting to here from where I began on this residency, back at the beginning of August. What is really exciting for me is that this feels like the start of a new way of working, a new stream to my practice, which is always evolving anyway. It was so good to pass through that uncomfortable place, revisiting the walking drawings, to come to this. Sometimes, being an artist is like walking along a path, one with switchbacks and branchlines and where the path ahead is often completely obscured by the trees.