I've been working on a costume with fashion designer, Max Allen, who is a school friend that I've known for yonks (since we were teens). The idea was to create something that combined the joke shop fancy dress muscle suits with the saggy and misshapen elements that mascot costumes have, as well as playing with sports kits. (See Research space for inspo images).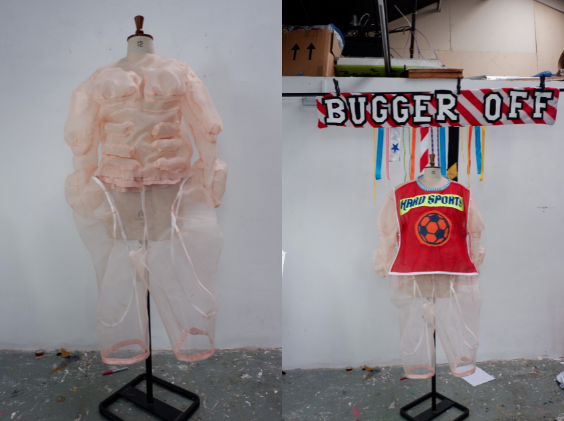 I wanted the body to be mesh and see through so that my own sick and disabled body is visible underneath, as the muscles are purely performative. All of our fleshy vessels hold a multitude of invisible possibilities that are not the binaries of healthy/unhealthy, fit or fat, and what is outwardly visible is only one small part of who we are and how we're feeling.
Hyperable bodies are so much about performance; sporting performance, fastest personal bests and the explicitly visible. I am looking forward to testing a superimposition of this performative body onto my own physical body, incorporating the gestures I have studied in my research and videos, with my own crip-time pace of moving.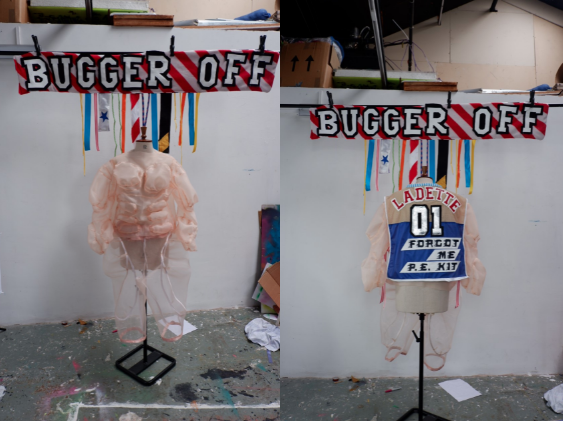 The costume body is so sculptural and statuesque, it reminds me of a Renaissance figure, a melted wax work and a pre-raphaelite painting. It's going to be fun to see how it reacts to light. I have bought a long flowing mullet wig to go with it.