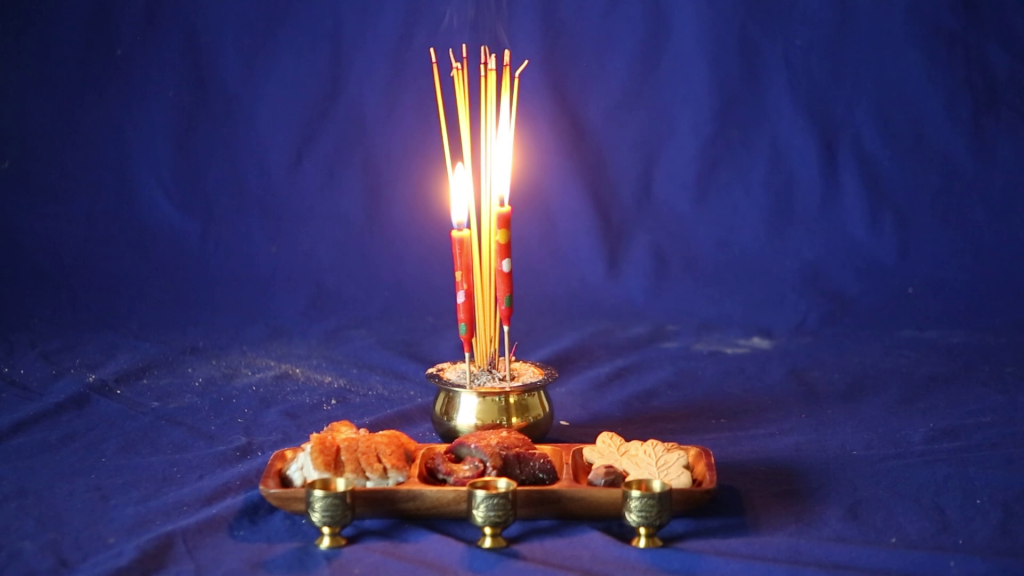 I don't recall what the festival is called but a search on Google tells me it's called the Ching Ming Festival. Ching Ming and the Mid Autumn Festivals were by far my favorite time of year overshadowing even Chinese New Year. Both festivals featured fire prominently and reminding me of aspects of my all time favorite time of year: Halloween.

Ching Ming being a festival we went and visited our ancestors resting places, talking to them, honoring them with offerings of food and wine, while burning joss money and sometimes even paper condos and servants. I loved the fire, the bigger the better, I loved feeding the fire with our folded joss money, I loved watching other families offer condos, suits, phones and servants to the all consuming flames. The whole day of adventures: going from site to site and we would end the day with a feast as if we were celebrating with the ancestors together. We would all sit down on my Great Grandfather's grave and eat a sumptuous meal of foods, fruits and wine often amongst the sweet aroma of ripening mango's on the trees around us.

The Mid Autumn festival with the lanterns and bonfires was another highlight of the year. I delighted in making lanterns that I knew I would be able to burn later in the night, parent sanctioned and all. I love fire to this day. Some of my other favorite things to this day being the moon and rabbits, Mid Autumn festival was the pinnacle of my favorite things: Fire, Moon worship, Rabbits and making things. For the adults it was also time to find love and there would be markets of fresh flowers and mazes with notes dangling from higher up, each seeking love or a particular lover. The lights, the flowers, the fires and the lanterns all made for a fantastical childhood that is unparalleled in Canada.

There is something magical about fire to me always and forever. I still remember keenly the smell of josh sticks in the air, the special candles we used, I remember collecting moon cake tins with various indentations to make interesting molds for the night of melting candles. Most of all I loved the ritual of folding and burning joss money. My Grandmother taught me how to fold these papers with the golden square in the middle, we folded it to mimic the old school currency of the gold ingot, know also as a yuanbao.

I grew up in a time in Hong Kong where mythologies and legends were real life. To me phoenix's and dragons were the real deal, ghost and ancestors walked amongst us and the Gods and Goddesses was a relationship full of wonder, fantasy and fire. May our prayers rise with the smoke to the Gods and Goddesses. It brings me a great peace, at 45, to start to bring these elements to my own home in this foreign land, creating an Altar to the same Goddess as my mother did for so many years continuing a lineage and tradition older then the words I write on this page.