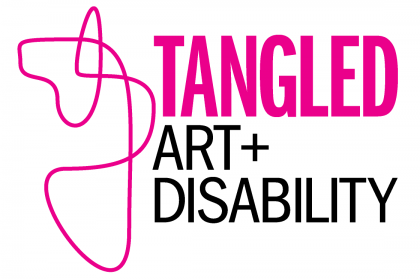 I was nominated for Vital Capacities via Tangled Art + Disability. My journey with them started with the exhibition Thaumaturgy. I believe it was our 2nd or 3rd meeting that accessibility training was conducted, in depth instruction was provided so that our exhibition was developed on a foundation of accessibility grounding our direction from day one to be accessible to people of different abilities.
Here is a list of documents they shared with me to help me understand accessibility needs of people living with disabilities:

– Audio Description – 3 Core Skills by The Audio Description Coalition

– AEB'S Guidelines for Verbal Description by Elisabeth Salzhauer Axel, Virgina Hooper, Teresa Kardoulias, Sarah Stephenson Keyes, and Francesca Rosenberg

– Fundamental of Audio Description by Joel Snyder

– Basic Steps to Describing Works of Art (reprinted with permission: Gerson, Making Visual Art Accessible to People Who are Blind and Visually Impaired)

– Interpreting Works of Art by The Audio Description Coalition

– Reading A Painting by The Audio Description Coalition

– Audio Description for Exhibits by Bill Patterson Audio Description Solutions

Here's a resource list from Tangled Arts Training – Toronto, March 2017

LIST OF RESOURCES
Axel, Elizabeth Salzhauer and Nina Sobol Levent, eds. Art Beyond Sight: A Resource Guide to Art, Creativity, and Visual Impairment. New York: AFB Press, 2003.
Grambs, David. The Describer's Dictionary: A Treasury of Terms and Literary Quotations. New York: WW Norton and Co., 1993.
Horowitz, Alexandra. On Looking: A Walker's Guide to the Art of Observation. New York: Scribner, 2013
Howell, Busser. 20/20 Blindsight. CreateSpace Independent Publishing Platform, 2013.
Levent, Nina and Alvaro Pascual-Leone. The Multisensory Museum: Cross-Disciplinary Perspectives on Touch, Sound, Smell, Memory and Space. New York: Rowman & Littlefield, 2014.
Mendelsund, Peter. What We See When We Read. New York: First Vintage Books, 2014.
Snyder, Joel. The Visual Made Verbal: A Comprehensive Training Manual and Guide to the History and Applications of Audio Description. Arlington VA: American Council of the Blind, 2014.
ONLINE
artbeyondsight.org
audiodescriptionsolutions.com
vocaleyes.co.uk
cnib.ca
perkins.org